KXStudio : News
DPF-Plugins v1.6 released →
← Ildaeil v1.2 released
> Cardinal 22.10 released
On 2022-10-15 by falkTX
Hello hello! We have yet another release, Cardinal 22.10, with mostly bugfixes this time.
Cardinal is a free and open-source virtual modular synthesizer plugin.
It is based on the popular VCV Rack but with a focus on being a fully self-contained plugin version.
There are no 3rd-party module changes or updates this time around, the release is more or less the combination of changes from 22.09 until today.
Fixes are significant enough to warrant a new release, so here we are.
The only actual new feature comes from a sync of the internal Ildaeil with the just released version 1.2 of it, which allows to load arbitrary files as plugins.
For Cardinal this means it is easier to host VST2 and CLAP plugins without having to rely on an external Carla window (which typically needs to be installed separately too).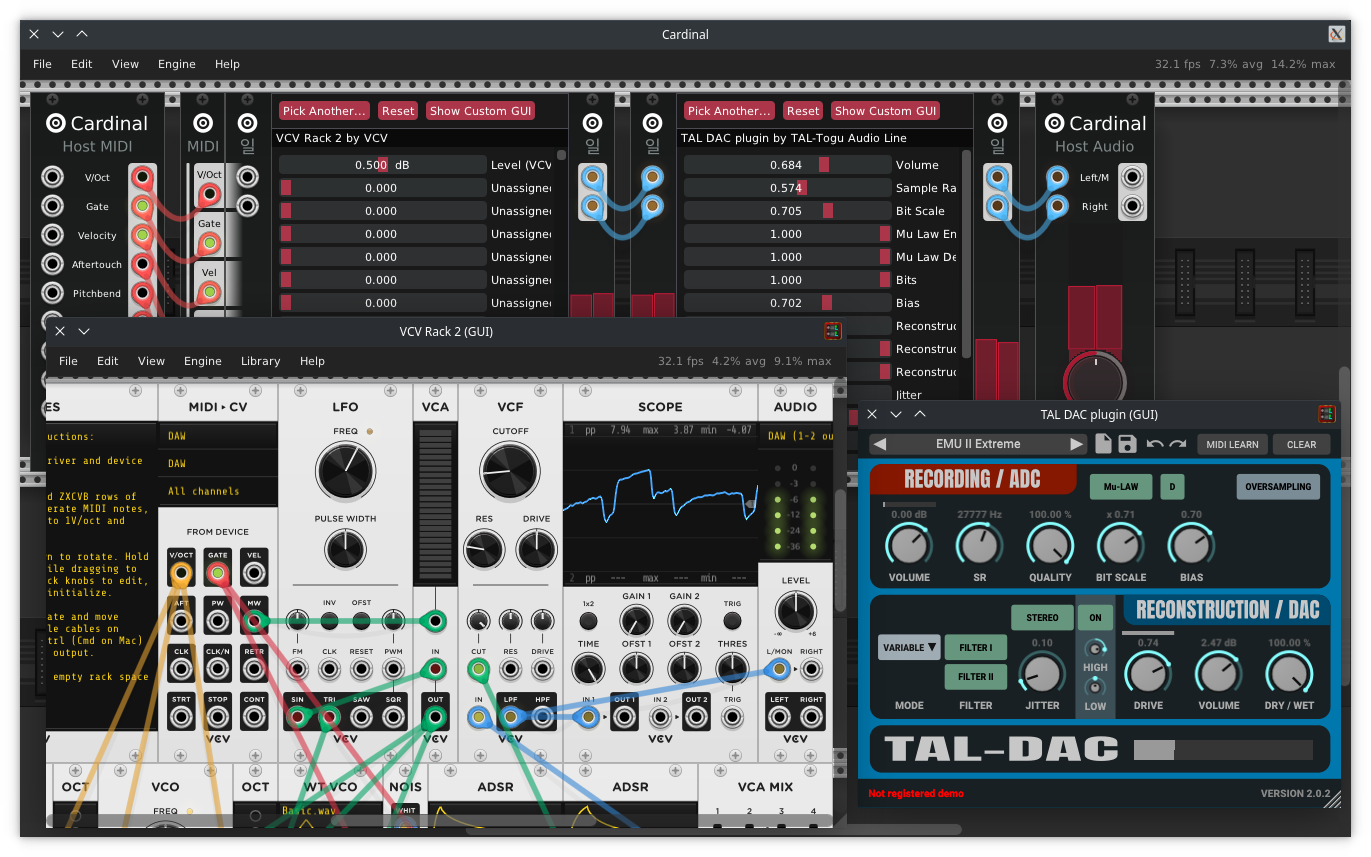 Changelog
Allow Ildaeil loading arbitrary files/binaries as plugins
Fix headless build
Fix Host Time step not triggering under certain conditions
Fix missing CardinalNative during "make install"
Fix missing MIDI support in CardinalNative Windows builds
Remove superfulous modules in falkTX_-_Divide-no-Conquer.vcv example patch
Several fixes to CLAP plugin version
Update internal Carla to latest, brings initial experimental CLAP hosting
Downloads
The source code plus Linux, macOS and Windows binaries can be downloaded at https://github.com/DISTRHO/Cardinal/releases/tag/22.10.
Cardinal is released as LV2, VST2, VST3 and CLAP plugin, plus AudioUnit and JACK standalone for certain systems.