KXStudio : News
Cardinal 22.07 released →
← Cadence 0.9.2 release
> Cardinal 22.06 released
On 2022-06-29 by falkTX
Hello everyone, yet another release of Cardinal is here, with a few new modules and a bunch of bugfixes.
Cardinal is a free and open-source virtual modular synthesizer plugin.
It is based on the popular VCV Rack but with a focus on being a fully self-contained plugin version.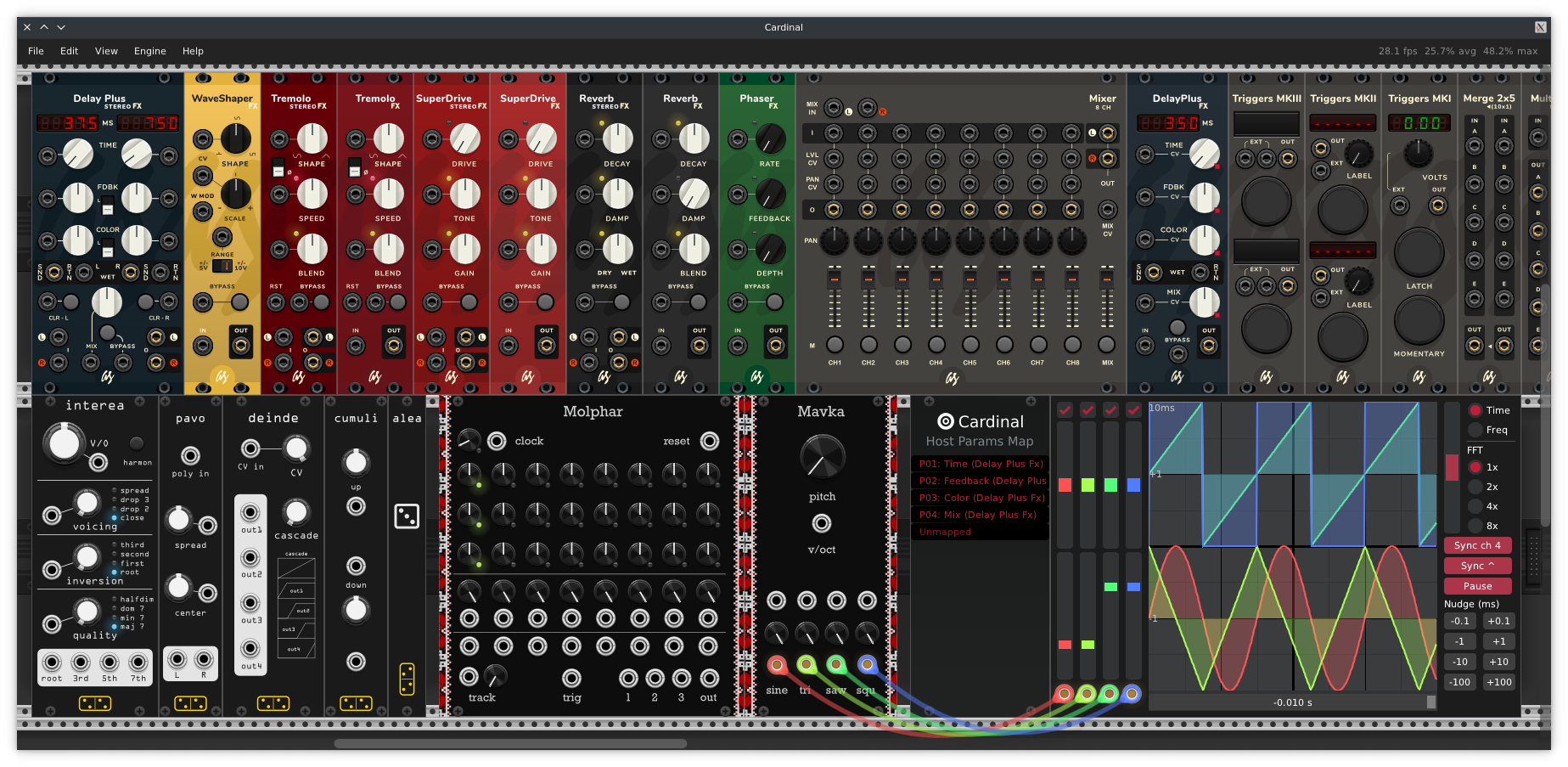 Module changes
Add Host Parameters Map core module
Add Sassy Scope core module
Implement custom plugin GUIs for internal Ildaeil plugins
Implement JSFX plugin support in Ildaeil
Make Host Parameters smoothing optional
Fix Fundamental flipped noise outputs
Fix Fundamental wavetable garbage reads
Fix Host Time trigger (tolerate max 2 frames of deviation, dont trigger on tick == 0)
Fix Lilac export file dialog
Update voxglitch
Cardinal core changes
Fix FX and Synth VST3 versions not running under Ableton Live
Fix macOS universal installer for systems without rosetta2
Fix mouse up event for imgui based widgets
Fix scroll speed on macOS
Fix VST2 plugin cleanup (crash on close)
Fix VST3 MIDI CC input handling
Fix VST3 UI initial size
Fix VST3 UI resizing from host side
Fix X11 file browser dialog not picking files with special characters or spaces
Implement glfwCreateStandardCursor, allowing custom cursors from modules
Show demo patches in file menu
Several optimizations
Update to Rack 2.1.1
Other changes
Add VT_-_Jupiter_Ascent.vcv demo patch
Change synth template to use Fundamental instead of Bogaudio modules
Implement more details for lv2 export (category, unipolar/bipolar CV, lights as control outputs)
Downloads
The source code plus Linux, macOS and Windows binaries can be downloaded at https://github.com/DISTRHO/Cardinal/releases/tag/22.06.
Cardinal is released as LV2, VST2 and VST3 plugin, plus AudioUnit and JACK standalone for certain systems.